FSAI Launches National Consultation on Mandatory Calorie Information
Published on Oct 6 2015 2:58 PM in Food tagged: restaurants / Food Safety / calorie information / FSAI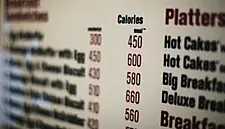 The Food Safety Authority of Ireland has announced a national consultation by the Department of Health to seek information about madatory calorie information on menus.
The online questionnaire invites all parties to give their views on the proposed legislation under the Health and Wellbeing Bill. The questionnaire asks respondents their views on issues such as the the effects of the legislation on business and how to properly display calorie counts.
The FSAI has developed a free app called MenuCal to assist restaurants and customers in calculating the calories of each meal. The questionnaire can be taken here.
The new legislation proposes that calorie information be put on every menu along with the price. It has received serious backlash from the foodservice sector, with several chefs and representatives speaking out against it.