Kerrygold Butter 'Most Missed' Food For Irish Emigrants
Published on Dec 11 2017 10:53 AM in Food tagged: Tayto / Kerrygold / Cadburys / Barry's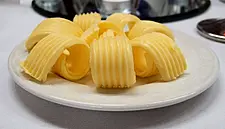 Kerrygold butter has pipped Tayto crisps (which held this position for four years in a row) to the top spot and has been named the 'most missed' food by Irish emigrants, according to the fifth annual 'Diaspora Decides' study, undertaken by Behaviour & Attitudes on behalf of Checkout magazine
In total, 57% of the 303 returned Irish emigrants surveyed said that they missed Kerrygold while overseas, while 29% said they missed the brand 'a lot'.
Other brands missed by emigrants include of course Tayto which is missed by a total of 53% of respondents, with 30% missing it 'a lot'). Cadburys chocolate also made the top brands of missed by Irish living abroad.
Loyal To Favourite Brands
News Editor at Checkout, Donna Ahern, commented, "It comes as no surprise that, on the brink of Christmas, for those living abroad, nostalgia sets in. Family and all things that remind the diaspora of home are on the forefront of their mind. We are known to be loyal to our favourite brands, and research shows that the brands we miss the most when we live abroad are Kerrygold butter, Tayto Crisps, Cadbury's chocolate, Barry's and Lyon's tea."
"It is interesting to see that Kerrygold butter has pipped Tayto crisps to the top spot for the first time since the study, undertaken by Behaviour & Attitudes on behalf of Checkout magazine's inception five years as the most missed brand of food by Irish people living abroad." She adds.
Battle Of The Tea Brands
Irelands favourite tea brands also made the top five on the most-missed brands. Some 23% of respondents say that they miss Barry's 'a lot', with 42% missing it 'a little'. In Lyons' case, a quarter of respondents say that they miss the brand 'a lot', and 42% miss it 'a little'.
"Elsewhere, the battle of the big tea brands, Barry's and Lyons, continues with Barry's just edging out Lyons as the most - missed tea brand by Irish people living abroad."
The research also indicated that prepacked bacon/rashers (69%) top the list of products considered to be of better quality in Ireland versus abroad. This is followed closely by other firm favourites, such as milk (62%), butter (62%), sausages (61%) and tea bags (56%). This indicates that, when it comes to the most-missed meal of the day when abroad, breakfast comes out on top, as the research shows that the Irish abroad are very loyal to their breakfast-table favourites.
*About The Methodology:
An online survey of 303 respondents was carried out; among those who have returned to Ireland having lived abroad for at least 6 months. Fieldwork was conducted 7th – 7th November, 2017.
© 2017 - Checkout Magazine