Northern Ireland Year Of Food And Drink Awards Launched
Published on Dec 9 2016 12:12 PM in Food tagged: Tourism Northern Ireland / Georgina Campbell / Northern Ireland Year of Food and Drink Awards / Ulster University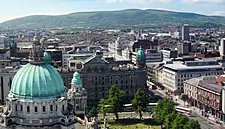 The inaugural Northern Ireland Year of Food and Drink Awards, which will celebrate food producers and experiences in the region, has been launched.
The panel of judges will comprise of critics Charles Campion and Joris Minne, author Georgina Campbell and Professor Una McMahon-Beattie head of the department of hospitality and tourism management at Ulster University, reports The Belfast Telegraph.
There will be eight categories in the awards, including Best Food Event or Festival; Best Local Market; Best Tours and Trails; Best Marketing Achievement; Best Food Innovation; Best Food Story; Roots to Market; and Growing for the Future, with the winners to be announced in 2 February.
Susie Brown, Tourism Northern Ireland director of corporate development said: "The Year of Food and Drink has been welcomed, embraced and widely implemented right across the tourism and hospitality industry and food and drink sectors, here at home as well as overseas. As the year draws to a close we are focused on creating a lasting legacy for the initiative and the Year of Food and Drink Awards will help us to do that.
"The quality and variety of local produce in Northern Ireland has helped enhance the food and drink experiences for visitors, with figures showing that overnight visitors to Northern Ireland from all markets spent an estimated £751m last year, of which approximately one third was spent on food and drink. We will continue to strive to further develop Northern Ireland's reputation in food and drink both at home and with our visitors, with our tourism industry growing as a consequence."