Restaurants Association Announces Top 10 'Foodie Destinations' for 2017
Published on Jul 20 2017 2:45 PM in General Industry tagged: Sligo / Restaurant Association of Ireland / cong / Boyne Valley / monaghan / West Waterford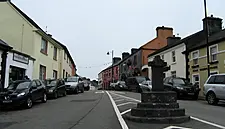 The Restaurants Association of Ireland (RAI) has announced the top 10 finalists in the 'Foodie Destinations' competition 2017.
The RAI has said the competition aims 'to celebrate Ireland's unique and wonderful food offerings and to encourage local food tourism initiatives across the country'.
The RAI added that during the first stage of judging, applications were thoroughly assessed by an independent panel of judges.
The top ten 'Foodie Destinations' of Ireland for 2017 are as follows:
Boyne Valley
Cong (pictured)
Galway's Westend
Kilkenny
Kinsale
Loop Head Peninsula
Monaghan
Sligo
West Cork
West Waterford
Each of these ten finalists will now receive a pre-arranged visit from a pair of independent assessors in the coming weeks. This assessment will be combined with a national public voting campaign where the public can choose their winning foodie destination out of the ten finalists – this can be done through www.foodiedestinations.ie.
A number of 2016's finalists, including last year's winner Boyne Valley, have made the top ten list for Foodie Destinations again this year. New entries to this year's finalist list include Galway's Westend, West Cork, West Waterford and Kinsale.
Adrian Cummins, Chief Executive of the Restaurants Association of Ireland, said: "Winning the title of 'Foodie Destination of Ireland 2017' will provide a competitive edge to towns and regions wishing to promote their areas to incoming tourists. The rich landscape of the Irish culinary scene has provided us with an interesting battleground for the competition. This is an exciting time to be involved in the food and tourism industry in Ireland, and for local businesses to show the pride they have in their communities to the nation."