The Consumer Goods Forum Hires Two New Directors
Published on Apr 22 2015 9:23 AM in Food tagged: Consumer Goods / Food Safety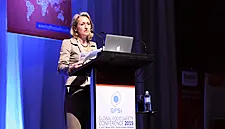 The Consumer Goods Forum (CGF) has appointed two new directors in order to strengthen its senior management team.
Véronique Discours-Buhot (pictured) joins as director of the Global Food Safety Initiative (GFSI), while Ignacio Gavilan has arrived as a director of Sustainability.
This announcement comes as The Consumer Goods Forum (the CGF) readies for the Annual Global Summit in New York, which will commence on 24 June.
The organisation brings together the CEOs and senior management of some 400 retailers, manufactures and other stakeholders across 70 countries.
The CGF is unique in the industry as it holds a position as the only organization which represents both manufactures and retailers globally, with 50 of the world's top CEOs on the Board. The organisation focuses on areas of non-competition, and engages in activities which improve the industry through positive and actionable plans.
In their new roles, Discours-Buhot and Gavilan will work with the wider management committee to define the strategic direction of the CGF.
Their duties will include gathering the necessary resources and driving the delivery of the strategy on behalf of its 400 members and in support of greater consumer trust and transparency.