Aer Lingus Passenger Numbers Up for March
Published on Apr 8 2015 11:41 AM in General Industry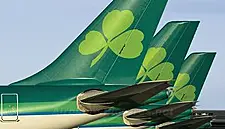 Aer Lingus passenger numbers rose by 2.3 per cent in March 2015 compared to the same month last year.
Traffic increased to 815,000 in March, up from just under 800,000 last year, according to the Irish Times.
While short haul traffic showed a marginal drop - down 3,000 to 625,000 - long haul showed a marked increase. A total of 94,000 people flew long haul flights in March compared to 75,000 last year - an increase of 25 per cent, due to an increased number of US routes.
Load factor - the extent to which each plane is full - grew from 74.7 per cent to 79.1 per cent. Both short haul and long haul load factor increased.
Aer Lingus posted these positive numbers after Ryanair revealed that its traffic for March increased by 28 per cent.