Aer Lingus Records Slight Increase In Q1 of 2013
Published on Apr 24 2013 11:32 AM in General Industry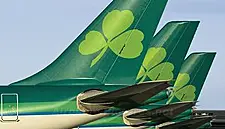 Aer Lingus has recorded a slight revenue increase in Q1 of 2013, with the airline's finances up by 3.3% to hit €259 million during the first three months of the year. The airline also noted that passenger numbers increased by 2.2% between January and March, while the money the carrier makes from fares has risen by more than 6%. However, despite the positive quarter, the carrier also noted that it would be introducing a voluntary severance scheme in 2013, with 100 jobs to be axed before the end of the year. While the number of longhaul passengers was up by more than 14% during the first three months of the year, the carrier had been hit with higher airport charges and fuel costs. Aer Lingus has also had lower numbers of passengers travelling on its UK routes in recent months.
Aer Lingus CEO Christoph Mueller said that the cost-cutting initiative was being introduced to protect profits:
"In line with the ongoing requirement to streamline our organisation structure and identify cost saving initiatives, we are launching a voluntary severance programme, with a goal of reducing headcount by approximately 100 staff by year end," he said."