Aer Lingus To Resume Direct Flights To San Francisco
Published on Jun 18 2013 4:48 PM in General Industry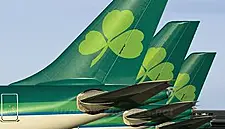 Google, Apple and Facebook have persuaded Aer Lingus to reopen the San Francisco to Dublin route, according to reports, with the three companies having reportedly given assurances to the carrier that the seats will be filled.
The three tech companies all have European headquarters in Ireland and San Francisco bases for their American operations.
Flights between Dublin and San Francisco were halted by the carrier in 2009 in a bid to reduce its fleet footprint, owing to the economic recession.
The decision to discontinue the flight meant that there was no direct route from Dublin to Silicon Valley, from which around 40% of Ireland's total direct investment originates, according to the IDA.