Ballymaloe Literary Festival of Food & Wine To Get Facelift
Published on Nov 2 2016 3:16 PM in General Industry tagged: Darina Allen / Ballymaloe Literary Festival of Food & Wine / Rachel Allen / Ballymaloe Food & Drinks Literacy Festival / Rory O'Connell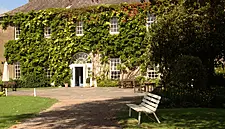 Cork's Ballymaloe Literary Festival of Food & Wine is to undergo a change in 2017 that will see it put more of an emphasis on food literacy, responsibility and sustainability over food and drink literature. This year's event, which will run from 19 to 21 May, will now be known as the Ballymaloe Food & Drinks Literacy Festival, reports The Irish Times.
The festival, which attracted 8000 people in its inaugural year (2013), has had the likes of Yotam Ottolenghi, wine expert Jancis Robinson, Francis Mallmann, Christian Puglisi, David Lebovitz, Garrett Oliver of Brooklyn Brewery, JP McMahon, Kevin Thornton, Rene Redzepi, Ross Lewis and Neven Maguire all give speeches over the years.
Discussing the change, director of the festival Rory O'Connell said: "The festival has moved with what's happening on the planet, and we realise now we're between a rock and a hard place, and if we don't start to do something about it, we're going to be in trouble. The conversations at the festival started, year one, specifically about recipes, writers, beautiful prose about food and drinks. Then we started to think, well that's all very lovely, and we're very lucky and fortunate people, but you know what, we need to get to the nitty gritty here. We need to know how we are going to be able to sustain the beautiful things that we are lucky enough to eat and drink."
Putting more of an emphasis on topics such as food literacy is designed to educate people about "where [food] came from, who produced it, it if is good for you or if it is bad for you", while food responsibility is about "needing to know where the food came from, who produced it, how it was produced, if the producer got paid enough, how far it travelled, all of those things".
Despite the changes, O'Connell added that the Ballymaloe Food & Drinks Literacy Festival "will still have lots of fabulous writers, we will still talk about books, but as festival director, I can't justifiably put on a festival now which is just about gorgeous recipes and beautiful books. I've got to tell the story around all of the ingredients that are involved in those books".