Center Parcs Plan €100 Million Investment in Ireland
Published on Apr 1 2015 3:17 PM in General Industry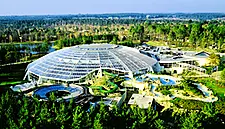 Center Parcs, one of the UK's largest holiday resorts, is seeking planning permission to build a new €100 million complex in Co. Longford.
The proposed site for the development is in a forestry area at Newcastle, just outside Ballymahon, Co. Longford. The move could create 500 jobs, as well as a further 600 jobs during the construction phase, which is expected to last over two years.
The firm is currently in talks with Coillte, the State forestry and landowning company, and Longford County Council for permission for the new resort village to begin construction.
If built, the new site will include over 200 lodges and villas. It will also include a swimming pool complex, spas, restaurant and bars. It will be the largest ever tourism investment for the area.
Center Parcs has bought up 375 acres of the 800-acre area around the Newcastle area and will seek planning permission within the next six months.
Center Parcs provides short-break holidays for families in five locations in the UK, and a further 21 in France, Netherlands, Belgium and Germany.