Concerns Arise Over Airbnb's Effect On Irish Rental Market
Published on May 30 2017 11:55 AM in General Industry tagged: Airbnb / Lorcan Sirr / Declan O'Brien / Eoin Ó Broin / Patrick Robinson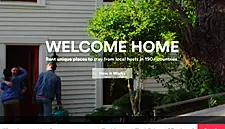 It's being reported that Airbnb's rising success in Ireland is having a significant impact on the country's rental market, with one example cited by The Irish Independent recounting the story of a young woman living in Dublin who was asked to leave her apartment last year recently discovering that the property has been listed for €100 per night on Airbnb, despite the landlord telling her that he needed it for personal use.
The listing price is in contrast to the former resident's monthly rent of €1,100.
Statistics show that an estimated 403,000 people availed of Airbnb's services in Dublin last year, with an approximate spend of €169 million. Independent website Inside Airbnb states that there are currently upwards of 6,700 properties available for rent through Airbnb, 3,165 of which are entire lets.
Dr. Lorcan Sirr of DIT's School of Surveying and Construction Management says that "Airbnb is having an impact on the housing market and there's no doubt about it", while landlord and Temple Bar resident Declan O'Brien believes that "taking entire homes out of the rental and sales stock in a time when there's such a chronic shortage of housing in Dublin really is a problem."
O'Brien added that despite knowing he "could make much more money by renting out [his] property than having it in the long-term lettings market", he doesn't want to do it because he believes "in the idea of community and neighbours and fairness" and asserted that living "in an environment where there are loads of short-term lets around you" damages these ideas.
Sinn Féin spokesman on housing Eoin Ó Broin has repeatedly called for regulations on the market over the past 12 months with no success. Ó Broin said that "In an environment in which we have thousands of people in emergency accommodation, including a large proportion of children, this is a matter of the most utmost urgency."
Airbnb Director of Public Policy Patrick Robinson pointed out that "entire homes shared on Airbnb represent just 1% of the housing units in Dublin." However, Lorcan Sirr says that this figure is irrelevant because "The figure that's important is the one in which entire homes are let out all year long and what impact that's having. There's no regulation to speak of".
Meanwhile, Eoin Ó Broin remains adamant that change has to happen, stating that "The question is how long entire homes can be let on Airbnb? The answer is probably somewhere between 30 and 90 days. That would help to eradicate the commercialization, but would allow people to rent out their home when they're on holiday, for instance, or on a short career break."