Congolese Aircraft Grounded by Irish Court Over Arbitration Debt
Published on Aug 25 2015 7:09 AM in General Industry tagged: Congo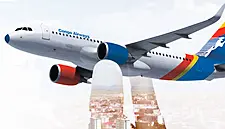 Congo Airways, the Democratic Republic of Congo's new national carrier, said one of two new aircraft the government recently purchased was blocked from leaving Ireland because of a legal dispute.
"Congo Airways confirms the seizure of its second A320 in Dublin, following a dispute between the Congolese state and a third-party," the airline said in a statement on its Twitter account on Monday. The Irish Times reported 21 August that the High Court in Dublin prevented the Airbus Group SE aircraft from leaving Ireland following an application by two U.S. citizens owed $11.5 million after a 2007 court ruling. The U.S. District Court, District of Columbia, confirmed the arbitration award in March, ruling that a balance of $11.6 million was still owed by the Congolese government to the petitioners, according to documents obtained from the court's website.
Prime Minister Matata Ponyo said Monday that the situation was being reviewed by the Ministry of Portfolio. Neither the Portfolio Minister Louise Munga Mesozi nor the managing director of Congo Airways, Claude Kirongozi, were immediately available when Bloomberg sought comment.
Bloomberg News, edited by Hospitality Ireland