Conrad Hotel Manager Takes Over IHI President Post
Published on Jul 14 2015 3:52 PM in Hotel tagged: tourism / IHI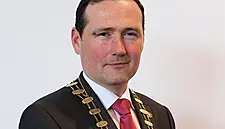 Martin Mangan, general manger at the Conrad Hotel in Dublin, has been appointed president of the Irish Hospitality Institute (IHI) for the next two years.
Martin (pictured) will now oversee the celebrations of the 50th Anniversary of the IHI taking place next year.
Martin said a key focus of his term in office will be to ensure membership growth, enhanced partnership and alliances with additional patrons, the continuous development of its membership base with a greater regional spread with a clear emphasis on attracting younger members and re-invigorating the Young IHI.
During his term, Martin will focus on "what he sees as the key strategic priorities of the institute, networking, recognition, mentoring and continuous professional development".
One key initiative undertaken by the IHI in 2015 is the completion of 'Tourism Insight', its new online transition year programme aimed at showcasing the job opportunities within the industry to school students at an early age.
Tourism Insight has been developed by IHI in conjunction with Institute of Technology Tralee and is supported by Fáilte Ireland (with other involvement from DIT, Shannon & Griffith)". The programme's aim is to inform Guidance Counsellors & Transition Year Students about the Hospitality & Tourism sector as a career choice.  "We have already linked with over 150 schools, and the majority of these have indicated interest in participating as part of their Transition Year".