Cork Airport Passenger Numbers Continue To Fall
Published on Feb 9 2015 11:10 AM in General Industry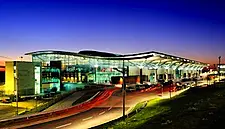 Cork airport has seen passenger numbers take a drastic downturn as Dublin and Shannon continue to prosper.
The number of passengers flying through Cork has dropped by over one million, from 3.25 million to an estimated 2.1 million in just six years, the Irish Independent reveals.
The one million passenger drop is being attributed to better selection and pricing elsewhere, as well the airport losing major carriers including Malev, EasyJet, Wizz, ThomsonFly, CentralWings, BMIBaby, Air Wales, British European and Loganair.
Munster base flyers, says Ryanair, are choosing the more cost-effective Dublin and Shannon airports over Cork. These airports also boast a better selection of Ryanair routes, with Dublin and Shannon flying to 23 and eight different countries, respectively. Cork, meanwhile, flies to only five countries with Ryanair.
According to figures released by the Irish Aviation Authority, Cork Airport's passenger numbers in 2014 were down 3.8 per cent, whilst Dublin and Shannon both showed impressive boosts as the economy recovers, up 6.5 per cent and 18.7 per cent.
The airport is burdened by the debt of the cost of the new terminal, which cost €120 million to build. The old terminal, which Ryanair sought to make an exclusive hub, now lies isolated. Ryanair boss Michael O'Leary called the terminal a "white elephant".
Cork will look to boost passenger numbers by bringing new routes, outside of those already offered by Ryanair.