DKIT & DIT Hospitality Faculties Win DELTA Awards
Published on Mar 22 2018 12:03 PM in General Industry tagged: Trending Posts / DIT / DELTA Awards / DKIT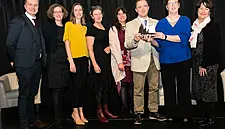 The Department of Hospitality at Dundalk Institute of Technology (DKIT) and the School of Hospitality Management at Dublin Institute of Technology were both announced as winners at the inaugural DELTA (Disciplinary Excellence in Learning, Teaching and Assessment) Awards at a ceremony in Dublin on Wednesday March 21. The awards were presented by Minister for Higher Education Mary Mitchell O'Connor for projects that demonstrated outstanding commitment to enriching teaching and learning in their disciplines and preparing graduates for the working world. The DELTA Awards are organised by the National Forum for the Enhancement of Teaching and Learning in Higher Education.
The winning DKIT project was from the Department of Hospitality and was entitled 'Embedding Graduate Attributes into all Programmes'. The Hospitality Department places a very strong emphasis on career readiness and securing employment, creating the capacity for the graduates to build a career or start their own business. Working with stakeholders, the Department identified six strands of graduate attributes which are now used as the basis for the design and delivery of all programmes.
DIT's School of Hospitality Management won for its project entitled 'Students in Action Initiative'. The Students in Action Initiative, run by seven academics in the school, is a student focused tourist destination project which seeks to establish deep and meaningful engagement between destinations, industry, community, DIT staff and students. It has run each year since 2012 and usually 200-300 students are involved. The key objective is to offer support to a tourism destination and its related organisations over the course of an academic year in the form of focused assessment work and to thereby provide students with real-life learning experiences. The overall aim is to enhance the students' experiences and produce more knowledgable and highly skilled graduates.
Prof. Sarah Moore, Chair of the National Forum for the Enhancement of Teaching and Learning, said, "We are delighted to have hosted the DELTA Awards, highlighting project teams that have had an outstanding impact in teaching and learning in higher education. The awards also recognise the importance of discipline leadership and celebrate the expertise and commitment that characterises exceptional teaching."
The inaugural DELTA Awards form an integral part of the overall teaching enhancement approach of the National Forum by recognising the value of teaching at a national level. The learning impact awards system highlights the quality of higher education in Ireland and will recognise and publicise this work to a wider audience.
Winning Projects – DELTA Awards 2018
Discipline

Institution

Project Name

Arts/ Law

University of Limerick, School of Law

 

Clinical Legal Education through Experiential Learning

 

IADT, Faculty of Film, Art, and Creative Technologies

Critical Thinking and Creative Practice

Health

University of Limerick, The Graduate Entry Medical School

Integrated Medical Education – Learning for Life

 

UCD, Radiography and Diagnostic Imaging -

Incorporating educational and healthcare technologies to enhance Radiography and Diagnostic Imaging education and training

 

Dublin Institute of Technology,Higher Cert. in Pharmacy Technician Studies

Innovations in Pharmacy Technician Studies

 

University of Limerick,Department of Clinical Therapies

 

Interprofessional Education at the University of Limerick: Training allied healthcare students for best practice

 

Sciences

Dublin Institute of Technology,Chemical Education Research Team

 

Supporting, Engaging and Challenging DIT Chemistry Undergraduates by Emphasising Real World Applications and Applying Technology Effectively

Enginnering/Construction

Galway Mayo Institute of Technology,Building Information Modelling Implementation Group GMIT (BIGG)

 

Using a collaborative academic-industry reciprocal learning framework to establish GMIT as an international leader in Building Information Modelling (BIM) education and campus management

 

Business

 

Dundalk Institute of Technology,Department of Hospitality

Embedding Graduate Attributes into all Programmes

 

 

Cork Institute of Technology

ACE (Accelerating Campus Entrepreneurship)

Entrepreneurship Education at Cork Institute of Technology

Social Sciences

Dublin Institute of Technology,School of Hospitality Management and Tourism

Students in Action Initiative