EasyJet to Intensify Cost Cuts as 2015 Terrorism Hurts Fares
Published on Jan 26 2016 3:15 PM in General Industry tagged: easyjet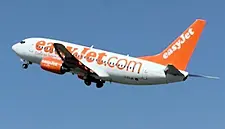 EasyJet os stepping up efforts to control costs this year to offset potential disruptions like the Paris shootings and presumed bombing of a Russian passenger jet in Egypt in late 2015.
Europe's second-largest low-cost airline now forecasts that expenses per seat excluding fuel will be flat to up 1 per cent in the year through September, EasyJet said in a statement on Tuesday. That compares with a November prediction of a 2 per cent increase.
EasyJet cut fares to attract customers after the French and Egyptian terrorist attacks. Keeping expenses in check is central to the business strategy of discount carriers such as EasyJet and larger rival Ryanair. Those efforts have been helped by a drop in oil prices, which are currently at about a 12-year low.
"This year we will consolidate" a low-fare strategy "with a relentless focus on cost reduction which is already delivering" results, EasyJet CEO Carolyn McCall said in the statement. "This will ensure that EasyJet continues to win and continues to grow revenue, profit and dividends."
Pretax profit in fiscal 2016 will about match the £738 millio that analysts are predicting, EasyJet said, citing estimates the carrier has gathered. That would be a gain of 7.6 per cent from a year earlier. Revenue in the three months ended 31 December declined 0.1 per cent to £930 million, missing the £946 million-pound average of estimates compiled by Bloomberg, because of falling fares and currency shifts.
"While the French and Egyptian issues have had a more damaging impact on fares than we had expected, these are relatively exceptional and short-term issues, while the more controllable and longer-term issue of cost efficiencies is better than we had envisaged," James Hollins, an analyst at Nomura, said in a report to clients.
Including spending on fuel, the fiscal first-quarter cost per seat fell 6.2 per cent. Excluding currency effects and kerosene expenses, the figure increased 1.3 per cent. Spending growth was held back by airport fee discounts for higher passenger volume, savings in engineering and maintenance, and a fleet shift to more-efficient Airbus A320 airliners from A319 models, EasyJet said.
News by Bloomberg, edited by Hospitality Ireland