Erin Sauces Now Proudly Served by Excellence!
Published on Apr 24 2015 9:45 AM in General Industry tagged: erin / excellence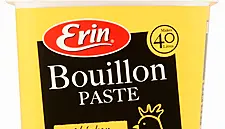 Excellence, the largest distributors of ambient foodservice products to the Irish catering industry over the last 40 years, is delighted to announce that they now offer a quality range of Erin sauce mixes and pastes.
These products follow all of Excellence's ranges in offering you the best in quality, choice and value.
Main features of this great range include:
• Re-usable tubs with easy peel labels.
• Competitive pricing.
• Available in powder or paste format.
• Lower in salt than competitor.
• Powder has three flavours, Chicken, Vegetable & Beef.
• Paste has four flavours, Chicken, Vegetable, Beef & Fish.