Fáilte Ireland Research Outlines Tips For Successful Tourist Attractions
Published on Dec 7 2017 2:28 PM in General Industry tagged: Fáilte Ireland / Guinness Storehouse / Paul Carty / Association of Visitor Experiences and Attractions / AVEA / Caeman Wall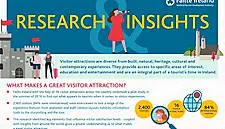 Newly released insights from Fáilte Ireland have identified some of the most important elements that influence satisfaction levels with a tourist attraction for overseas tourists.
The research, conducted with the help of 16 visitor attractions nationwide, involved interviews with 2,400 visitors (84% international) to identify what part of the experience increased their enjoyment of the attractions they were visiting.
Fáilte Ireland's head of research, Caeman Wall, explained: "The research will provide visitor attractions throughout the country with practical tips and insights about how to increase visitor appeal and satisfaction when it comes to the visitor experience."
Paul Carty, MD of Guinness Storehouse and chair of newly formed industry representative association AVEA (Association of Visitor and Experience Attractions), welcomed the research, saying, "From an industry perspective, the research gathered is highly informative. By increasing visitor satisfaction, we are prompting our international visitors to make recommendations to their family, friends and wider community about why Ireland is a must-see destination, which in effect increases our marketing reach and influences future tourists to travel."
The research identified six key elements which it found, when done well, increase satisfaction with visitor attractions:
- Passionate, informed guides, who provide an entertaining tour and bring emotion to the story, are highly valued. Humour and distinctive 'nuggets' contained within the tour delivery are often especially memorable.
- Stories about people, rituals and events are particularly well received and stick in the mind of the visitor. Stories should also build upon and be different from what is available on websites and the story itself needs an Irish twist.
- Interpretation that is well planned, entertaining and authentic can deliver a great visitor experience particularly when based upon an understanding of the visitor, their motivations and interests. Audio guides and information audio guides for non-English speakers also have a major positive impact on their experience.
- Coherent layouts which are easy to navigate and well signed that lead the visitor through the story are essential.
- Visitor Management is important with creative techniques for busy periods required to avoid long queues. Small intimate groups and a relaxed pace add to satisfaction levels.
- Transactions which are straightforward and offer value for money are central to visitor satisfaction. Visitors like one inclusive price that covers all aspects of the experience.