Government Will Consider Bids For Aer Lingus
Published on Jan 25 2015 1:56 PM in General Industry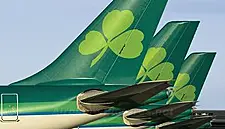 Minister for Transport Paschal Donohoe has said the Government will consider offers for Aer Lingus.
The Government holds a 25 per cent stake in Aer Lingus and this announcement comes in the wake of reports that International Airlines Group has made yet another bid for the airline.
Donohoe told RTE's The Week in Politics said, "I and the Government will take huge care in evaluating any proposal that comes in."
IAG has already made two previous bids and new reports suggest that a third offer has been made which would value the airline at around €1.4 million or about €2.50 per share.
One of the main issues with any takeover appears to be Aer Lingus' slots at Heathrow Airport. There are concerns that these slots, which are currently allocated to Ireland-Heathrow flights, would be diverted elsewhere.
Donohoe said, "all of our connectivity is extremely important and the one most talked about are the Heathrow slots." He added that he would also be considering the people that would be affected by any decision and the impact to the Aer Lingus brand.
Takeover discussions are believed to be ongoing this weekend and it is expected that the board will recommend that shareholders accept the new offer. Shareholders will then have to vote to accept or reject the bid.
Ryanair is the other main Aer Lingus shareholder, holding a 29.8 per cent stake in the airline.
IAG was formed in 2009 by the merger of British Airways and Iberia.