IAG Passes Lufthansa in Carrier Ranking With Air France in Sight
Published on Jan 12 2016 4:37 PM in General Industry tagged: IAG / Deutsche Lufthansa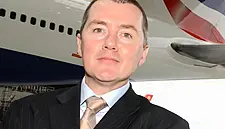 British Airways parent IAG edged past Deutsche Lufthansa to become Europe's second-biggest airline last year, spurred by its acquisition of Ireland's Aer Lingus as strikes held back the German carrier.
Lufthansa's traffic, a measure of the number of customers carried times the distance flown that's regarded as an industry standard, gained only 2.7 per cent to 220 billion revenue passenger kilometers, it said Tuesday. IAG last week posted a 9.6 per cent advance to 222 billion RPKs.
The shift reflects a growth spurt since IAG's formation in a merger of BA and Spain's Iberia in 2011 that's seen the London-based company buy the former British Midland - from Lufthansa - as well as Barcelona-based discounter Vueling and most recently the Irish flag-carrier.
IAG Chief Executive Willie Walsh (pictureD) pushed through thousands of job cuts at Iberia while using Vueling to combat the challenge of low-cost carriers led by Ryanair. He has also embraced Gulf rivals, inviting Qatar Airways to join the Oneworld alliance in a move that led it to become a 10 percent investor.
Lufthansa and Air France-KLM Group, the No. 1 by traffic, are both struggling to deliver a step change in labor costs to match that achieved by Walsh at Iberia and earlier at BA, where he faced down cabin-crew unions during months of walkouts.
Lufthansa, where CEO Carsten Spohr is axing unprofitable routes and moving short-haul flights that don't feed its hubs to low-cost unit Eurowings, suffered its worst-ever strike in November, with 4,700 flights canceled in more than a week of industrial action by flights attendants opposed to benefit cuts.
That followed the loss of 3,200 services earlier in 2015 amid strikes by pilots. Some 8,600 services were also lost in 2014.
IAG is easily the biggest of Europe's three main network airlines by value, with a market capitalisation of £12.3 billion ($18 billion), compared with €6.8 billion at Lufthansa and €2.3 billion at Air France-KLM.
While Air France-KLM remains Europe's biggest carrier, it barely outperfomed Lufthansa, with a traffic gain limited to 2.8 per cent to 236 billion RPKs as it struggled to force through a short-haul restructuring plan that's prompted violent clashes with workers.
IAG is set to close in further this year, since 2015's figures including only three months of Aer Lingus traffic.
News by Bloomberg, edited by Hospitality Ireland