Ireland Exceeding Tourists' Expectations
Published on Apr 13 2015 11:43 AM in General Industry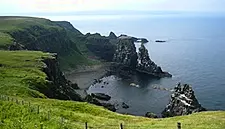 Ireland's reputation as a holiday destination is improving with overseas visitors, as the majority of tourists said all their expectations were met when they visited in 2014.
According to a survey of 1,500 people carried out by Fáilte Ireland, 55 per cent of respondents responded positively when asked if their holiday met all expectations, while 44 per cent said expectations were exceeded.
Most people (including eight out of ten North Americans) said they would recommend Ireland as a destination to a friend, while some 57 per cent said they would return.
In another sign of shifting attitudes towards holidaying in Ireland, 54 per cent of visitors said they found "good" or "very good" value in the country. Only five per cent found it to be "poor" value for money, compared to 41 per cent in 2007.
The Fáilte Ireland's Visitor Attitudes Survey 2014 found that the Irish people and scenery were the most cited reasons for a holiday exceeding expectations. Others mentioned were the history and culture, the weather and the food.