Ireland To Welcome Nine Million Tourists In 2016
Published on Nov 28 2016 11:34 AM in General Industry tagged: Fáilte Ireland / Tourism Ireland / Irish hotels federation / Brexit / Joe Dolan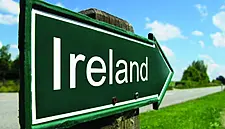 The number of tourists to Ireland is set to exceed nine million by the end of year, according to figures from the Central Statistics Office (CSO), however Fáilte Ireland has said that Brexit should serve as a warning against "any creeping complacency in the tourism sector".
CSO figures show an increase of 11.6 per cent to 8.277 million in overseas visits to Ireland for the first ten months of 2016 compared to the same period of 2015, with big gains in the European, US and British markets, reports The Irish Times.
North America registered an increase of 18 per cent to 1,584,600 million visits, visits from Great Britain visits were up by 11.9 per cent to 3,335,000 and visitors from Mainland Europe grew by 9.8 per cent to 2,890,200 million.
Despite the success, Shaun Quinn, CEO of Fáilte Ireland said that Brexit has meant "we can take nothing in life for granted" and "that future growth is not guaranteed and must be fought for". He added that the tourism sector should have a "greater focus on growing visitors from Europe where the potential for many more visitors and greater revenue exists". Minister Shane Ross commented that "the Department and the tourism agencies continue to monitor our competitiveness as a tourist destination and assist enterprises in responding to changing conditions".
Niall Gibbons, chief executive of Tourism Ireland, said: "It is clear that 2016 will be another record-breaking year for Irish tourism. We have seen exceptional results from North America for January to October. And Mainland Europe has also turned in another excellent performance, with important markets like Spain, France, Germany and Benelux all recording good growth."
However, Joe Dolan, president of the Irish Hotels Federation and operator of the Bush Hotel in Carrick-on-Shannon in Co Leitrim, said the industry does not expect growth rates from Britain to be sustainable and that many tours this year had been pre-booked before Brexit. Dolan also said it's critical to rebalance the "inequitable spread" of tourism and that while there has been strong growth, the recovery has been uneven and that Brexit is still a major concern.