Ireland's Ancient East Launch Five Orientation Signs In Co. Waterford
Published on Nov 29 2016 11:42 AM in General Industry tagged: Fáilte Ireland / Ireland's Ancient East / Waterford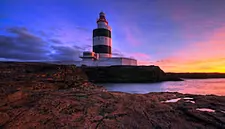 Fáilte Ireland has launched five new visitor orientation signs in Co. Waterford as part of its programme to help boost tourism in Ireland's Ancient East. The signs are designed to encourage visitors to explore and stay longer on the route with further signs expected to be in place at 80 key sites throughout the region by the end of this year.
Waterford's five Ancient East signs can be found at Ardmore; Copper Coast; Dungarvan Castle; Lismore Castle; and Viking Triangle. The signs, which are shaped as a large spiral wheel, highlight a range of sites within a 60-minute drive with the aim of making it easier for visitors to find other attractions besides the primary sites.
Fáilte Ireland's Head of Ireland's Ancient East, Jenny De Saulles said: "For too long, most overseas tourists have seen the south east, midlands and north east as a region to travel to for a day or simply just to travel through. Ireland's Ancient East seeks to change all that by creating enough 'stickiness' and points of curiosity that visitors will slow down, explore the region and stay overnight. These signs are geared to encourage that behaviour. Strategically located at popular stopping points, they inform visitors of all the other interesting things to see and do within an hour's drive in every direction outwards."
De Saulles added that "we want to transform Ireland's Ancient East from a transit zone to a touring zone by increasing visitor dwell time in the region".