Irish Minister Says Aer Lingus Sale Has Risks as IAG Woos Locals
Published on Feb 16 2015 10:10 AM in General Industry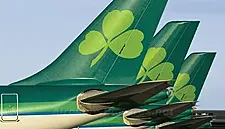 IAG's proposed takeover of Aer Lingus contains risks for Ireland, one of the government's most senior ministers said, adding to a chorus of lawmakers still to be persuaded by the deal.
Aer Lingus said last week that IAG's €1.36 billion bid is "compelling," adding to pressure on the ruling coalition to sell the state's 25.1 per cent stake in the airline. IAG Chief Executive Officer Willie Walsh told lawmakers in Dublin last week that the offer is dependent on the government accepting its bid.
"In good times, Aer Lingus might expand rapidly as part of IAG," Health Minister Leo Varadkar said in an interview with broadcaster Newstalk, aired on Sunday. "If IAG got into trouble, would it not pull back to core bases in London or Madrid? All these things would have to be considered."
Varadkar joined lawmakers expressing reservations about the proposed deal even after Walsh last week strengthened his guarantees to the government to try push the proposal through. Walsh offered safeguards protecting routes between some regional airports and London, adding to assurances on not selling Aer Lingus's slots at Heathrow and keeping key Irish routes for at least five years.
"He made an impressive case, but I still remained to be convinced," Joe Costello, a lawmaker with the Labour Party, the smaller party in the coalition, said in an interview in Dublin. "When he comes back to us again, he needs to make a more persuasive case and he needs to improve his offer."
Costello said at this point, based on the current IAG commitments, he didn't expect parliament to back the deal even after the Aer Lingus board laid out its support.
"They may have said this was a compelling case," Costello. "But the arguments on the other side are equally compelling, and maybe more so."
Ireland's Transport Minister Paschal Donohoe is still weighing his recommendation to cabinet, and Varadkar said the government "shouldn't run away" from decisions just because a general election is due within about a year.
News by Bloomberg, edited by Hospitality Ireland