Italian Trams Promote Tourism In Ireland
Published on May 10 2017 2:52 PM in General Industry tagged: Tourism Ireland / Logitravel / Niamh Kinsella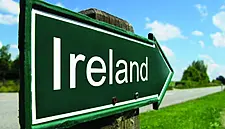 As part of Tourism Ireland's latest marketing campaign in Italy, trams in Milan are being adorned with ads exhibiting Ireland's rural landscapes and coastal scenery.
According to fft.ie, the campaign, which was launched in conjunction with Italian travel agency Logitravel, will run until the end of the year and will encompass a combination of online ads, video promotions and e-mail marketing to a database of over 1.5 million Logitravel customers as well as attiring the exterior of Milanese trams in Irish imagery which will be seen by an estimated 5.2 million commuters.
Manager for Tourism Ireland in Italy, Niamh Kinsella, stated that "2016 was the best year ever for tourism from Italy to Ireland when we welcomed almost 345,000 Italian visitors, up 7% on 2015. Tourism Ireland is determined to ensure that success continues and we have a programme of promotions underway in Italy in 2017."