Minister for Finance Eases Fears About Imminent VAT Rate Change
Published on Jul 24 2017 12:07 PM in General Industry tagged: VAT / Paschal Donohoe / Brexit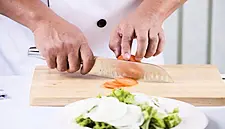 With pressure reportedly building within government to phase out the special 9% VAT rate for the hospitality industry, Minister for Finance Pascal Donohoe has moved to allay the fears of hospitality businesses around the country by signalling that the rate will remain at 9%.
Donohoe has cited concerns about the ongoing fallout from Brexit as one of the chief reasons to maintain the current low VAT rate, reports The Irish Times.
Speaking before the Oireachtas Budgetary Committee, the Minister said that while increasing the rate would bring around savings of €600 million, the change could bring about a number of negative effects too.
"One of the issues I have to consider is the number employed by the tourism industry and in the service sector," he said.
"For example, the impact on sterling of Brexit and, therefore, the number of British visitors coming to Ireland has to feed into the decision.
"The read-out from our airports regarding the number of British visitors also has to feed into my decision. However, all the decisions will be taken together later in the year."