Minister to Consider Luas Link to the Airport
Published on Apr 16 2015 12:20 PM in General Industry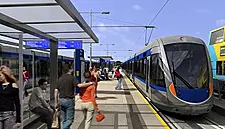 A Luas link to Dublin Airport from the city centre is the most likely option to replace the Metro North proposal, which has fallen out of favour.
Minister for Transport Paschal Donohoe is to choose between six proposals for the Dublin-Fingal area, and is said to be gearing towards a light rail option, according to the Irish Times.
The minister is awaiting a report from the National Transport Authority of the shortlist of six, which was reduced from 25 last year. He will present his recommendation to the Dáil before the summer recess.
An amended Metro North plan, dart spurs from the Maynooth and Dublin-Belfast train lines and a Bus Rapid Transit system are also on the shortlist.
Although both the Luas and the Metro North would require some tunnel digging, the latter has fallen out of favour due to the high costs involved in extensive tunnelling. The Luas will tunnel under Glasnevin cemetery and will cost less and create less residential disruption.
The priority of the project is to expand transport links between the city and Dublin Airport, which is expected to expand significantly in upcoming years.