New Academy Trains Jobseekers to Serve Up Belfast Hospitality Industry
Published on Nov 11 2016 11:08 AM in General Industry tagged: Belfast / Belfast City Council / Belfast Hospitality Employment Academy / Belfast Works LEMIS+ / People 1st / Belfast MET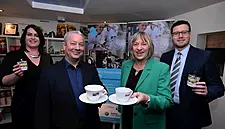 The Belfast Hospitality Employment Academy has launched with the goal of helping to train unemployed people for jobs in Belfast's burgeoning hospitality sector. Belfast City Council, Belfast Works LEMIS+ project, People 1st and Belfast MET have all joined forces to train jobseekers for entry-level jobs in the industry, helping those that would otherwise lack the experience and qualifications to get a job there.
Participation in the academy is free and will provide accredited training for 120 participants in food safety, health and safety, customer service, team working and barista training. The latter involves a taster session, either a two-week intensive or a four-week part-time training programme and an interview session with employers who have open job vacancies.
"Hospitality is such a key growth sector for Belfast's economy – and there's a real diversity of roles within the industry. We've developed a fantastic programme of support with our partners which includes training in skills required by the sector, personal development mentoring and interview skills training. We've also engaged with employers to ensure that their needs are met and that the Academy is fit for purpose. We'd love to hear from all Belfast hospitality businesses which have full or part-time entry level vacancies," said Councillor Aileen Graham, Chair of Belfast City Council's City Growth and Regeneration Committee.
The first two-week training course has currently started and courses will run until March 2017 at Belfast MET campuses and venues across the city. Those wishing to participate in the academy must live in the Belfast City Council area and must not be currently employed.