New Addition Announced For IFEX 2016
Published on Jan 27 2016 3:35 PM in General Industry tagged: Ifex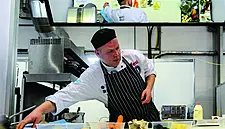 Northern Ireland's biggest food, drink, retail & hospitality event – IFEX 2016 – will open its doors in March at its new home, the Titanic Exhibition Centre, Belfast and there's set to be even more ingredients for a successful show than ever before.
Setting the stage for what is to be the biggest and most exciting show to date, event organisers Fresh Montgomery have partnered with the Guild of Fine Food to introduce the Great Taste Market to IFEX.
The Great Taste Market will house many Great Taste award-winning products from both Northern Ireland and Ireland, including Burren Smokehouse, Cavanagh Free Range Eggs, Cashel Blue, Foods of Athenry, Goodness Grains, S. D. Bell's and Yellow Door.  Acknowledged as one of the most prestigious benchmarks for quality within food and drink products, visitors to IFEX will be guaranteed to source award-winning produce at the Great Taste Market.
 John Farrand, Managing Director of the Guild of Fine Food commented:
"The Guild of Fine Food is thrilled to be launching the first Great Taste Market at IFEX as we've excellent relationships with many food and drink producers from both Northern Ireland and Ireland, due to the huge success that Irish producers have enjoyed in Great Taste. Year after year, Northern Irish and Irish producers consistently perform well with their world-class products, and this is reflected in the numbers of stars awarded. We've even had McCartney's in Moira and Hannan Meats scoop our top accolade, with both being named as Supreme Champions in 2011 and 2012 respectively."   
The Guild of Fine Food is highly-regarded for its organisation of the 'Oscars' of the food world – the Great Taste Awards.  It has recently been revealed that, for the second time, Great Taste judging will take place at Belfast Metropolitan College at the beginning of June 2016.
Over 5,000 industry professionals are expected to attend IFEX to meet with more than 140 exhibitors from Northern Ireland, Ireland and further afield.
 IFEX 2016 is taking place from Tuesday 8 March to Thursday 10 March at the Titanic Exhibition Centre, Belfast. The show opens daily at 10am and runs until 6pm on Tuesday and Wednesday, and to 4pm on Thursday.  Register your attendance for free now at www.IFEXexhibition.co.uk.  Follow IFEX on twitter @IFEX_NI or via Facebook.com/IfexBelfast or join the IFEX NI Group on LinkedIn.