New €500k Campaign Urges Britain To Embrace The 'Wild Atlantic Way of Life'
Published on Jan 4 2017 10:57 AM in General Industry tagged: Fáilte Ireland / Tourism Ireland / Wild Atlantic Way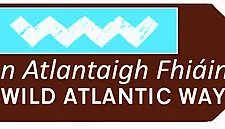 Fáilte Ireland has partnered with Tourism Ireland to launch a €500,000 Wild Atlantic Way advertising campaign in Britain. The campaign, which will run for four weeks, is in conjunction with five Local Authorities and is aimed at cities from Galway to Donegal that have good access to the region.
It will urge visitors to embrace the 'Wild Atlantic Way of Life' and will be run across a number of different mediums, including a radio partnership with the Bill Turnbull Show on Classic FM as well as adorning taxi's with Wild Atlantic Way imagery.
Discussing the campaign, Fiona Monaghan, Fáilte Ireland's head of the Wild Atlantic Way, said: "As we enter into the fourth season for the Wild Atlantic Way, we are determined not to rest on our laurels. This campaign allows us to raise international awareness of the route as a must-see visitor experience in key strategic locations which offer ease of access and great potential for the short-break market.
"The ease of access will be the key message and, in promoting the call of the Wild Atlantic Way in the Spring, we will be emphasising the short-flight durations from the targeted cities to get our message across."