Northern Ireland Not Appealing To Southern Tourists, Says New Report
Published on Dec 7 2017 9:57 AM in General Industry tagged: Northern Ireland / Brexit / Tourism NI / Terence Brannigan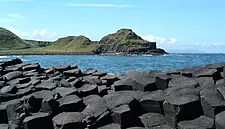 A new report commissioned by Tourism NI has found that Northern Ireland is "currently not a sufficiently compelling or motivating destination" for some visitors from the Republic.
According to The Irish Times, the report states that despite being regarded positively by prospective visitors from the Republic in a general sense, many are of the opinion that there are not enough "must-see and do" attractions to entice them to travel to the north.
Northern Irish tourism chiefs are hoping to increase annual revenue from southern tourists to £140 million (€160 million) by 2025, with Tourism NI chairman Terence Brannigan asserting that the organisation's "Say Hello to More" marketing campaign helped to encourage visitors from the Republic to make 221,000 overnight trips worth £40 million during the first six months of 2017.
However, while the report noted that the decrease in the value of sterling has made Northern Ireland more attractive to southern visitors as of late, it also emphasises that the potential fallout from Brexit means the future remains unclear.
The reports warns, "Brexit may bring both perceived and real issues to the forefront, [for example] border controls, levies and duties, which currently don't apply and may increase costs. The impact of Brexit on Northern Ireland's appeal, accessibility and cost competitiveness needs to closely monitored and managed in the future."