Northern Ireland Sees Growth In Overseas Visitors And Strong Revenue Increase
Published on Nov 21 2016 11:07 AM in General Industry tagged: Northern Ireland / Tourism Ireland / Niall Gibbons / NISRA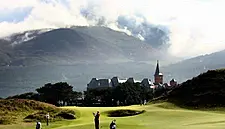 Tourism Ireland has reported a growth of 9 per cent in overseas visitors to Northern Ireland, and an increase in revenue of 14 per cent, between January and June 2016.
The figures, issued by the Northern Ireland Statistics and Research Agency (NISRA), show that there was 940,335 overseas visitors, up by 9.2 per cent compared to the same period in 2015. The growth in overseas visitors to Northern Ireland also saw revenue increase by 14 per cent (£245 million).
Niall Gibbons, CEO of Tourism Ireland, said: "I am particularly pleased to see growth of +16% in holidaymakers from overseas, with a significant increase recorded from Great Britain (+29%). Overseas visitors delivered more than £245 million for the local economy, up +14% on the first half of 2015. And, I am pleased to report that sentiment expressed by our tourism partners overseas (including tour operators and carriers), as well as our industry partners here in Northern Ireland (including hoteliers and visitor attractions), suggests that growth from overseas continued into the high summer and autumn seasons.
"This was a good first half performance and we are determined to ensure that tourism growth continues. Next month, we will outline our plans for 2017, when we will be pulling out all the stops to keep this momentum going and ensure that Northern Ireland continues to increase its share of the global travel business."