Norwegian Air to Delay 787 Order Pending U.S. Permit Approval
Published on Jul 9 2015 7:02 AM in General Industry tagged: norwegian air / Boeing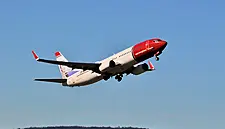 Norwegian Air Shuttle said it will delay ordering more Boeing 787 Dreamliner jets until U.S. regulators back plans to register in Ireland that it views as central to ambitions for an expanded long-haul network.
The discount carrier, adding intercontinental journeys to its network of European routes, is interested in a follow-on order for as many as 20 787s, in addition to 17 due to be delivered by 2018, chief executive officer Bjoern Kjos said.
"If the Department of Transportation comes through with approval we'll immediately continue the negotiations we've had with Boeing," Kjos said in an interview in London Wednesday.
Norwegian Air's expansion has met with resistance in the U.S., where it's awaiting a permit for trans-Atlantic flights with planes registered in Ireland. Without an accord Kjos said he'll delay adding Asian routes beyond Scandinavia-Bangkok services since Irish registration is key to their viability.
"We are pushing back the plans for opening routes towards the east at least a couple of years," he said, adding that the long-haul focus will remain on North America, where services are proving sufficiently lucrative in their own right.
Norwegian Air in 2012 placed one of the industry's biggest orders, for 22 Boeing 737s, 100 re-engined 737 Max variants, and 100 Airbus Group SE A320neos, which also have new powerplants. Kjos said he's pursuing plans to lease out some of the A320s, after announcing that he would deploy some short-haul jets on flights to the U.S. from French-controlled Caribbean islands that fall under European Open Skies agreements.
The airline began long-haul 787 flights out of Scandinavia in May 2013, adding operations from London Gatwick to New York, Los Angeles and Fort Lauderdale a few months later. Operations from the London hub are due to be expanded, with more New York flights this October, followed by new services to Puerto Rico and Boston in the next 12 months, the executive said.
A route linking another European city, potentially Paris, with North America is under consideration, Kjos said.
The CEO said he expects a U.K. air operator certificate, offering access to countries such as India and South Africa not covered by European Union accords, to be approved within months.
Bloomberg News, edited by Hospitality Ireland