Overseas Visitors To Northern Ireland Generate £436m
Published on Jan 23 2017 3:34 PM in General Industry tagged: Northern Ireland / Tourism Ireland / Niall Gibbons / Brexit / Northern Ireland Statistics and Research Agency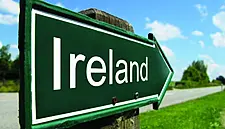 Northern Ireland has welcomed an 11 per cent growth in overseas visitors and a 17 per cent increase in revenue between January to September 2016, according to the Northern Ireland Statistics and Research Agency (NISRA).
The figures reveal that Northern Ireland welcomed more than 1.6 million overseas visitors between January and September, generating almost £436 million for the economy. Tourism Ireland is targeting an additional growth of 3.4 per cent for 2017, generating about £557 million for the Northern Ireland economy.
Niall Gibbons, CEO of Tourism Ireland, said: "Visitor numbers from Great Britain grew by +5 per cent, from North America by +13 per cent and from Mainland Europe by +14 per cent. Overseas holidaymakers increased by +11 per cent, with particularly strong growth in holidaymakers from Mainland Europe (+19 per cent). Overseas visitors delivered almost £436 million for the local economy, up +17 per cent; revenue from visitors from North America grew by an exceptional +48 per cent.
"We're kicking off our promotional programme for 2017 in a position of some strength, based on the success of 2016. Tourism Ireland will create 'stand out' for Northern Ireland around the world, highlighting iconic experiences like Titanic Belfast and the Causeway Coastal Route. We will continue our successful partnership with HBO, to highlight Northern Ireland – through the exciting events of Game of Thrones – on the global stage.
"Priority markets include Great Britain, Mainland Europe, North America, and Australia and developing markets. We will continue to monitor the implications of Brexit on outbound travel from GB. We are committed to ensuring that Northern Ireland continues to increase its share of the global travel business."