Plans To Create New 'City Quarter' In Galway's Eyre Square
Published on Dec 9 2016 11:33 AM in General Industry tagged: Galway / Comer / McHale / Eyre Square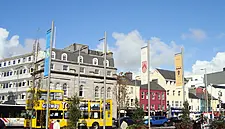 There are plans for a comprehensive redevelopment of Galway's city centre, with the goal of creating a new "city quarter", similar to Belfast's Victoria Square, according to Luke Comer of the Comer/McHale consortium.
Eyre Square's 'eastern rim' has been identified as a "key opportunity site", with the potential to create a "distinctive quarter" in the new city development plan for 2017-2023. The group's portfolio includes more than 30 properties around Eyre Square, Prospect Hill, Bóthar Uí hEithir and Forster Street, which were bought three years ago for a reported €14 million, reports The Irish Times.
The group's planned redevelopment will see the addition of a "plaza" around St Patrick's Church, a combination of commercial and residential buildings to go along with a hotel, shops, offices, apartments and student accommodation. The proposed material alteration to the draft city plan states the need to "demonstrate how new development would recognise the sensitive location [of Eyre Square]" and that the existing structures, many of which have historic value, could be complemented and "enhanced".