Ryanair Passenger Numbers Up by 28%
Published on Apr 7 2015 1:04 PM in General Industry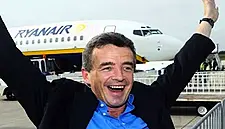 Ryanair traffic hit 6.7 million passengers in March 2015, a 28 per cent increase on the same month last year.
The load factor - the amount of of people on each flight - jumped to 90 per cent, up ten per cent on last year. The total number of passengers in the 12 months up to march 2015 was 90.5 million.
Ryanair said that new lower fares and its "stronger forward booking strategy" were responsible for the increased figures.
Sporting events as well as regular March tourists events also added to the increased passenger numbers on the airline.