Thousands of Germans to Visit Ireland
Published on Apr 7 2015 10:00 AM in General Industry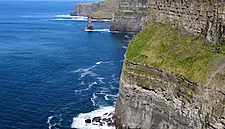 Whites Hotel Group have struck a €50 million deal with German tour operators to attract thousands of German tourists to the country in the upcoming months.
White's, which owns several hotels across the country including White's of Wexford and The Plaza Hotel in Dublin, has said the deal will allocate an extra 211,000 bed nights nationally. The German tourists will visit between now and October this year.
Speaking to the Clare Champion, managing director Marcus White said: "This German tour operator has given our company in Ireland over €50 million over nine years and that includes paying guides, paying for coaches and so on. That means it is worth well over €90 million in total to the economy."
Some 5,500 visitors have already been confirmed for a walking tour in the southwest, visiting sites such as the Cliffs of Moher and the Aillwee Caves. These will be bookended by nights in Dublin, adding 35,000 bed nights.