Three-Step Plan for Cork Airport Revival
Published on Apr 7 2015 10:01 AM in General Industry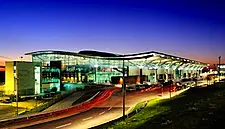 Minster for Tourism Paschal Donohoe met with representatives of Cork tourism to discuss the future of the airport, and to devise a plan to boost passenger numbers.
Minister Donohoe sat down for a 'brain-storming' session with officials from Tourism Ireland, Cork County Council as well as a further 60 business owners and locals to discuss the airport's flagging numbers.
Three specific areas were identified as key building blocks for the future of the region, which could be tied in with the airport, according to the Southern Star.
A new focus from Fáilte Ireland on the Wild Atlantic Way would bring the "culturally curious" traveller to the area, said Peter Nash of Tourism Ireland. These people would be interested in the food and outdoor pursuits the region has to offer.
Secondly, the airport will court new routes to fly to, with France and Germany being the main aim as well as Rome, Madrid, Stockholm, and Copenhagen being in the crosshairs.
Furthermore, emphasis will be placed on co-marketing strategies between local tourism agencies and the airport itself.
The plan comes as numbers continue to fall for the airport while Dublin and Shannon both prosper. In 2014 total passengers were down 3.8 per cent.