Most Tourism Businesses In Confident Mood Despite Post-Brexit Concerns
Published on May 26 2017 10:50 AM in General Industry tagged: Fáilte Ireland / Brexit / Patrick O'Donovan / Paul Kelly / Fáilte Ireland Tourism Barometer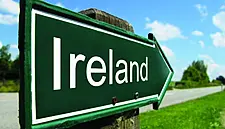 According to the latest Fáilte Ireland Tourism Barometer, while business sentiment across the tourism sector remains generally upbeat, 26% of businesses report experiencing a Brexit or Sterling exchange rate impact on their business.
Some 30% said that Northern Ireland business has underperformed, while 35% reported they've seen a fall-off in demand from Great Britain.
Nevertheless, Fáilte Ireland's 'Tourism Business Sentiment Index', which reflects year to date performance and 2017 expectations, shows that the business sentiment for the majority of tourism businesses remains 55% positive and 28% neutral. For most tourism businesses, the year has gotten off to a good start and confidence is being bolstered by a good performance over Easter, particularly helped by European and American markets.
Minister of State for Tourism Patrick O'Donovan said: "I am pleased to note that there is still great confidence within the tourism sector. However, concerns over the British market are starting to come to the fore and making an impact. The challenge facing our nearest market means that nobody in the industry can be complacent and it is vital that we keep a sharp focus on our competitiveness."
So far this year, 85% of hotels are reporting that their average room yield is up or on a par compared to the same period in 2016. However, 15% of hotels report that yields are down, compared to just 5% at the same point in time last year.
Looking to the rest of 2017, tourism enterprises are optimistic, with 60% expecting business to be ahead of last year and a further 29% expecting it to stay the same. 11% are expecting a downturn in their business compared to just 5% at the same time in 2016.
Fáilte Ireland CEO Paul Kelly commented, "Clearly, despite some softening in the British market, tourism operators remain upbeat, thanks in large part to business from North American and other long haul markets as well as the continued strong performance of the domestic market. The crucial focus now for every business must be on getting their market mix right. An over-reliance on one market can leave any enterprise dangerously exposed to unexpected external events such as Brexit. Diversification is the key to minimising that risk."
While other European destinations have suffered from perceptions relating to security, 61% of Irish tourism businesses mention the perception of Ireland as a safe destination as one the most positive factors influencing business. Other positive drivers of business include repeat visitors, the domestic market and the Wild Atlantic Way in the west.