Tourism Ireland and ASOS Team Up to Promote Irish Cities
Published on Apr 9 2015 11:18 AM in General Industry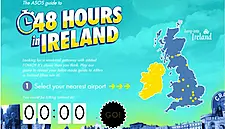 Tourism Ireland have struck a deal with international fashion brand ASOS to promote Ireland's capital cities.
The online site, in which eight million British shoppers use, will advertise Dublin and Belfast as fashion destinations and will feature a link on the website for customers to plan a trip to the island.
The "48 hours in Ireland" link is a short game where customers can plan their itinerary and have chance to win a weekend in Dublin or Belfast. The ASOS magazine will also feature a full page article on the two cities.
Tourism Ireland is building on what it called a successful partnership with ASOS last year, and hopes to promote Ireland to its "social energizer" audience in Britain, Ireland's primary tourism market.
The strengthening of the sterling against the pound has likely played a part in the increasing visitor numbers from Britain in recent months. Nearly 50,000 Britons visited Ireland in December 2014 to February 2015, an eight per cent increase on the same period last year, according to CSO figures.