Tourism Ireland's Press Awards Take Place In Amsterdam
Published on Dec 4 2017 11:30 AM in General Industry tagged: Trending Posts / Tourism Ireland / Ierland Press Awards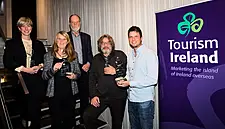 More than 35 top travel and lifestyle journalists in the Netherlands attended this year's 'Ierland Press Awards' – organised by Tourism Ireland in Amsterdam.
This was the 11th year of the awards, which recognise and commend the Dutch journalists and bloggers who have written or broadcast about holidaying on the island of Ireland over the past year. The theme of this year's event was our superb culinary experience – with Niall McKenna, the head chef and owner of the award-winning James Street South restaurant in Belfast, on hand to present some of our delicious produce, including Abernethy Butter, Portavogie Prawns and Echlinville Gin.
The event was also an opportunity for Tourism Ireland to thank the Dutch journalists for their efforts throughout the year in helping to highlight the island of Ireland as a fantastic destination for Dutch holidaymakers. Irish travel writer Fionn Davenport was also on hand to present the top journalists with their well-deserved accolades.
"Tourism Ireland was delighted to recognise these journalists for their excellent work during 2017, helping us in our efforts to raise awareness of the island of Ireland among Dutch travellers," said Karen van der Horst, Tourism Ireland's Manager for the Netherlands. "A key element of our annual promotional programme involves working with travel and lifestyle media and bloggers, to ensure they write or broadcast extensively about the island of Ireland as a holiday destination."
Prizes were awarded in five different categories at the 'Ierland Press Awards', including:
Newspaper: awarded to Felix Wilbrink for his article about the 'Culinary Treasure Trove' of Ireland in De Telegraaf (daily newspaper);
Northern Ireland: awarded to Ada Kerkstra and Akka Kalma for their article on Northern Ireland's history and beautiful coasts in Waterkampioen magazine;
Special Interest: awarded to Linda Korsten and Marco Mulders for their story about Doolin in Rootsmagazine;
Lifestyle: awarded to Elsbeth Grievink and Sander Boer for their article about Dublin in REIZEN Magazine; and
Blogs: awarded to Vivian Vos, for her article on Cork and its surroundings on the food blog ohmyfoodness.nl.