Tourism Minister Unveils Ireland's Tourism Drive At World Travel Market
Published on Nov 7 2016 11:40 AM in General Industry tagged: Ireland / tourism / tourism minister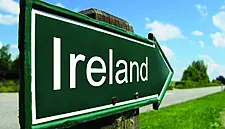 Minister of State for Tourism and Sport Patrick O'Donovan joined Tourism Ireland and some 70 tourism businesses from across the island of Ireland at World Travel Market (WTM) in London today.
WTM heralds the beginning of Ireland's promotional drive overseas for the 2017 season.
Over the next three days, the Irish companies will engage in thousands of meetings with British and international tour operators – to negotiate and exchange vital contracts for 2017. Organisers estimate that more than £2.5 billion's (about €2.8 billion's) worth of business was done at last year's WTM. Ireland's strong presence at World Travel Market is particularly important this year, in the context of Brexit and its potential implications for Irish tourism, in 2017 and beyond.
With about 180 countries and regions all vying for business at WTM, Tourism Ireland aims to stand out from the crowd and capture the attention of the global media and travel professionals in attendance. Tourism Ireland – working in partnership with Fáilte Ireland and industry partners – will highlight Ireland's offerings for potential visitors around the world, including the Star Wars connection with Ireland, as well as experiences such as Ireland's Ancient East, the Wild Atlantic Way andDublin – A Breath of Fresh Air.
 Minister O'Donovan said: "World Travel Market provides an excellent platform for Tourism Ireland, and the participating tourism enterprises, to highlight Ireland's world-class tourism experience to international tour operators. It is remarkable to see the level of business activity that is under way at the Tourism Ireland stand. It is often said that Ireland's people are its greatest tourism asset and seeing the hard work that is being put in here by Tourism Ireland, and by the representatives of the participating businesses, I have to agree. While there are new challenges for Irish tourism as a consequence of Brexit, I am confident that the tourism industry can adapt quickly to enable continued growth from international markets."