Wind Beneath Aer Lingus Wings After Takeover Attempt
Published on Dec 19 2014 11:12 AM in General Industry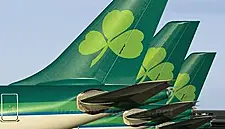 After news that International Consolidated Airline Group (IAG) tried to buy Aer Lingus went public, the Irish airline's share value increased by 20 per cent at a certain point yesterday (the overall increase stands at about 14 per cent, according to the Financial Times).
Industry sources believe that it could, as a result of IAG's offer, be valued at €1 billion (€1.87 per share) now.
The Government's 25-per-cent holding would be worth between €250 million and €275 million; Ryanair's would stand at between €298 million and €328 million.
Any effort to purchase Aer Lingus would need to be amenable to both – the two biggest shareholders – in order to be executed.
Minister for Transport Paschal Donohoe feels the IAG approach was a question only for the airline's board.
The Government has said it would consider selling its stake "only when market conditions are favorable, and on terms and at a price that are acceptable."