Ballsbridge Hotels Offered for €120 Million
Published on Apr 1 2015 10:57 AM in Hotel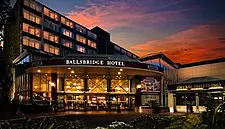 Two Ballsbridge hotels, which were bought by developer Sean Dunne at the zenith of the property boom for €380 million, will be put on the market for €120 - €150 million.
The former Jury's and Berkeley Court hotels became the D4 Hotel brand under Sean Dunne and subsequently the Ballsbridge and Clyde Court hotels.
The Irish Times reports that the properties are likely to go on offer internationally in the coming weeks.
Sean Dunne made the site one of Ireland's most expensive properties when he made the purchase in 2005. He was refused permission to redevelop the area and Ulster Bank and Rabobank took control in 2009. Dalata has been managing the hotels on the banks' behalf since.
The 6.8 acre site which currently houses 600 bedrooms will most likely be redeveloped for apartments, as well as a hotel, leisure centre, bar, cafe and restaurant.