Conerns Arise Over Website For Fake Dublin Hotel
Published on May 22 2017 10:41 AM in Hotel tagged: Hotel View Villa / Booterstown Avenue / Deirdre Kingston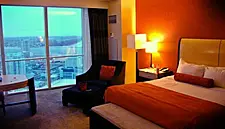 It's being reported that a website has emerged for a hotel in south Dublin named the "Hotel View Villa" that allegedly "overlooks the historic Grand Canal" on Booterstown Avenue and is said to be in close proximity to the Dublin Convention Centre, Grafton Street and the Guinness Storehouse.
However, concerns arose when it was discovered that the hotel's address is actually that of a small house in Dublin Bay, the owners of which are not in any way affiliated with the website, reports thejournal.ie.
Furthermore, its supposed Booterstown Avenue location is neither adjacent to the Grand Canal nor near any of the venues that the site says are close by. It has also been reported that a recruitment agency told several residents of India that they had been hired by the hotel and asked them to pay admin fees for its services.
Investigators for thejournal.ie rang the phone number listed on the hotel's website, which also features a list of fake testimonies, and after getting connected to an unidentified man and informing him that they were representatives of a media agency, they were quickly hung upon.
Local councillor Deirdre Kingston expressed her "concern that this is happening, that people are being potentially exploited by this scam" and stated that she hopes that the gardaí will be able to catch whoever is responsible.