Demand For Hotel Rooms In Cork City On the Rise
Published on Jan 12 2016 11:00 AM in Hotel tagged: tourism / Cork / ITIC / clarion / Conference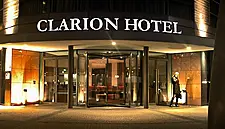 Cork city centre is in need of at least two new hotels to accommodate a growing demand for rooms from an increasing numbers of tourists visiting the city, according to the marketing manager at the Clarion Hotel on Lapp's Quay.
Raymond Kelleher told the Evening Echo that the hotel is seeing a significant increase in early bookings in 2016. "The year ahead is already looking good. It is hard to say for certain this far in advance, but we are definitely seeing better interest for the start of the year than at this time last year," he said.
According to Kelleher, a combination of general tourism, corporate bookings and conferences mean that most city centre hotels have busy nights on Tuesdays, Wednesdays and Saturdays, adding that this year's busy summer season should see nearby towns receive a boost as occupancy in the city will rise.
"City centre is on an upward trajectory. There will be demand for a hotel or two in the city centre in the coming years," said Kelleher.
With more than eight million people visiting Ireland in 2015, creating more than €7 billion for the economy, the Irish Tourist Industry Confederation reported that roughly 2.6 million of these visitors passed through the Cork and Kerry region.