Dublin Hoteliers Making Gains On Sheltering The Homeless
Published on Dec 11 2017 12:18 PM in Hotel tagged: hotels / homeless / Dublin Region Homeless Executive / Mannix Flynn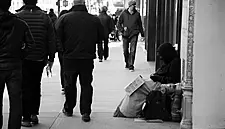 Private emergency accommodation providers, including hotels and B&Bs, have received €44.39 million in the first nine months of the year, according to the Dublin Region Homeless Executive (DRHE).
The new figures highlight that hoteliers, bed and breakfast owners, and other accommodation providers have received payments of more than €1.13 million a week to accommodate the homeless in the capital in 2017, reports thetimes.co.uk, adding that hoteliers have been paid €35 million so far, while other providers were paid €9.2 million.
It's reported that the overall spend across all areas dealing with the homeless crisis reached €89.5 million.
"What is being done is the warehousing of families and children and creating large profits for hoteliers from poverty," said Mannix Flynn, an independent councillor of Dublin city council, who added that, "the money being paid to hoteliers will only increase. There is no question about that."
Workers' Party councillor Éilis Ryan said that the funds paid into hoteliers are "propping up an entire sector".