Dublin Hotels are Hot Property for Foreign Investors
Published on Apr 28 2015 3:27 PM in Hotel tagged: Fáilte Ireland / Dublin hotels / InterContinental / Jones Lang LaSalle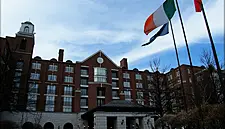 The biggest names in the global hotel industry are eyeing up Dublin for acquisitions, as a recovering economy and a growing tourism sector makes the city an attractive spot for investors.
With CSO figures released today revealing a sharp upturn in the amount of tourists visiting Ireland, eminent brands such as Hyatt, Shangri-La and Malmasion are all looking to get in to the Dublin market, where demand is high and, due to a booming office sector scene, supply of sites to build is low.
Speaking to the UK's The Sunday Times, Dan O'Connor, vice president of hotels with Jones Lang LaSalle said: "The reason they haven't been able to get in is because the office sector is taking off. Office values are are still a cut above the equivalent hotel values in Dublin city centre."
With occupancy rates being the fourth highest in Europe at just under 80 per cent, and with visitor numbers increasing year-on-year since 2009, the scarcity of rooms in Dublin is likely to increase in upcoming years. Fáilte Ireland chairman Michael Cawley recently called for more hotels to be built in Dublin to accommodate this trend.
However, the prospect of buying a hotel rather than building one is still the cheaper and more viable option, as sales have shot up in the last year.
US billionaire John Malone has made a huge splash in Ireland by snapping up properties,including the InterContinental (pictured), formerly the Four Seasons, for around €50 million. Other international firms have purchased a number of hotels in recent months, often capitalising on distressed assets or NAMA-owned properties.
"It's a huge trend not only across Ireland but globally," said O'Connor. "Three or four years ago traditional investors shied away from hotels. Today, Lone Star (which purchased the Jurys Inn chain for over €900 million in January) is one of the largest hotel owners in the UK, with about 10,000 rooms."
Although building may be scarce, investments such as these are expected to move quickly, as NAMA properties are still available, including 27 hotels in Dublin alone.