Hilton Says New Tru Hotels May Become Company's Biggest Brand
Published on Jan 26 2016 5:06 PM in Hotel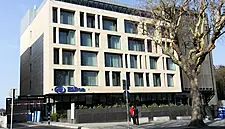 Hilton Worldwide is entering the fast-growing midscale hotel category with a new chain called Tru that's aimed at attracting younger, tech-savvy travellers with large lobbies, digital check-in and roo...
Hilton Worldwide is entering the fast-growing midscale hotel category with a new chain called Tru that's aimed at attracting younger, tech-savvy travellers with large lobbies, digital check-in and rooms for less than $100 a night.
The company said it has signed 102 franchise agreements with property owners and has another 30 pending in cities including Atlanta, Dallas, Houston, Chicago, Denver and Portland, Oregon, with the first Tru by Hilton hotels scheduled to open by the end of the year.
Most will be outside such pricey markets as New York and San Francisco, with locations in small college towns, near major highways and at resort getaways, said Phil Cordell, global head of focused-service brands for Hilton. The company plans to eventually expand Tru outside the U.S.
Tru is the 13th brand for the world's biggest lodging company, and may grow into Hilton's largest by number of rooms, Chief Executive Officer Christopher Nassetta said in an interview. The Hampton brand is currently the company's largest, with more than 200,000 rooms in 2,100 properties. Hampton is considered "upper midscale," with rooms costing 20 per cent to 30 per cent more than at Tru hotels, which plan to charge about $80 to $90 a night, Nassetta said. Midscale hotels typically don't have restaurants or meeting space.
Command Center
With hipster decor featuring broad swaths of turquoise and orange along with bold graphics, Hilton hopes to appeal to millennials on a budget who prize amenities including digital room keys and lobby space to work or hang out in, and who are increasingly drawn to hotel alternatives such as Airbnb Inc. Tru is being introduced Monday at the Americas Lodging Investment Summit in Los Angeles.
Tru's larger-than-average 2,776-square-foot (258-square- meter) lobby, called the Hive, will be divided into zones dubbed eat, work, play and lounge, and include a circular "command center" where guests can check in and buy light meals, snacks and single-serving beer and wine. A frosted-glass-and-wood-slat wall will separate a fitness center with treadmills and weights. Guests will have a choice of two room types, with either a king bed or two queen beds. The rooms will be relatively small, at 231 or 275 square feet, compared with 340 square feet for a standard Hampton room, and each will have a 55-inch television and free Internet.
Shabby Image
Midscale and economy hotels tend to have an image of being shabby, with worn carpet and peeling paint, Nassetta said. Room rates often are too low for owners to afford to spend much on upkeep. "At this price point, half the battle is cleanliness," he said. Hilton has signed partnerships with Procter & Gamble, maker of the Swiffer duster, for cleaning supplies at Tru hotels, and with AT&T's DirecTV unit for satellite television, according to Cordell.
"This is a space that is ripe for disruption," Nassetta said of the midscale segment. "Nobody's really doing it well."
Midscale-hotel revenue in the US reached $8.58 billion in 2015, accounting for six per cent of total US hotel revenue of $142.6 billion, according to travel-research company STR. Midscale revenue rose 6.4 per cent last year, while total hotel revenue climbed 7.4 percent. Choice Hotels International Inc. is the largest US operator in the midscale category, with about 1,797 properties, and its Quality Inn is the largest midscale brand, with 1,369 properties, according to STR.
Filling Void
"This midscale brand is going to fill a void in Hilton's portfolio," said Michael Bellisario, an analyst at Robert W. Baird & Co. "The midscale segment is one of the largest segments, and it's one that the major global brands have yet to really penetrate."
Tru is being introduced at a time of concern about slowing economic growth and declines in hotel shares and stock markets around the world.
"My view is that the industry and we will have another pretty good year this year," Nassetta said. The stock market "is pricing in a pretty major recession, and that is not what I think is going to play out."
Hilton hasn't seen a major change in operating results in China despite the country's economic turmoil, though the mix of development there has shifted toward lower-priced hotels in the past three years, Nassetta said.
"That's where the real demand is - in the midscale segment of the business," he said. "So what that means for us is instead of signing as many DoubleTrees, Hiltons, Conrads and Waldorfs by numbers, you'll start to see a lot more Hilton Garden Inns and Hamptons."
News by Bloomberg, edited by Hospitality Ireland