A Hotel Where People Happily Pay $600 for Afternoon Tea
Published on Nov 17 2016 9:56 AM in Hotel tagged: Manhattan / afternoon tea / Baccarat hotel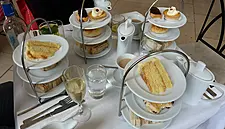 Key Details: Focusing on caviar and champagne, Tsar Nicholas II is Baccarat hotel's new, luxurious take on the classic afternoon tea. Competitors: The Peninsula ($60–$72 for classic afternoon tea, $28...
Key Details: Focusing on caviar and champagne, Tsar Nicholas II is Baccarat hotel's new, luxurious take on the classic afternoon tea. Competitors: The Peninsula ($60–$72 for classic afternoon tea, $285–$395 for afternoon tea with caviar and champagne); Mandarin Oriental ($48 for classic afternoon tea); Ritz-Carlton Central Park ($56–$89 for classic afternoon tea) Price: $400 paired with Lung Ching Imperial tea, or $600 paired with Krug Grande Cuvée NV 750ml Why It's Worth It: If you're going out for Champagne and caviar—not afternoon tea—you'll spend as much anywhere else.
And the interiors at the Baccarat are like no other.
Take the elevator to the second floor of the glitzy, year-old Baccarat hotel in Midtown Manhattan, and the doors will open in the Grand Salon, a bright and dazzling parlor with giant windows that overlook the Museum of Modern Art and Baccarat crystal dangling from every nook and cranny. Since the hotel's opening, it's been a place filled with women in fur coats and business meetings over $24 whiskey cocktails. Now it's also home to the city's most expensive afternoon tea service.
At $600, the Baccarat's Tsar Nicholas II menu is 10 to 20 times as expensive as those of most of its competitors. For comparison's sake, you can spend just $30 to $70 and sip premium teas at the Peninsula, or nibble on dainty pastries from three-tiered trays at the Mandarin Oriental. The hotel is also outdoing its own self; it already offered two excellent tea services called the King Louis XV ($95) and the Prince of Whales ($110), both with artisanal-leaning offerings such as rose-scented madeleines and tomato-white cheddar brioche.
But as much as the Baccarat is playing in a crowded market—there's an afternoon tea for every need, style, and mood in New York—it's also reigniting a culinary tradition that can often feel neglected or worn. Its strategy? Make afternoon tea feel indulgent again.
Whereas Baccarat's other two services make for beautiful, light afternoon meals, the Tsar Nicholas II is primarily and unabashedly about two things: caviar and Champagne. And tea, if you'd like.
A third of that $600 price tag is allocated to Champagne. The service is meant to feed two, and comes with 750 milliliters of Krug Grande Cuvée NV. You can opt to skip the Champagne and stick to "just" tea for $400.
Another third of that price, roughly, goes to caviar: a generous 30 grams of Petrossian's Tsar Imperial Ossetra, one of the higher grade caviar offerings from the brand. (The Petrossian shop a few blocks away sells this 30-gram tin of Tsar Imperial Ossetra for $170.) It comes with classic accoutrements of chives, egg yolks and whites, red onions, and crème fraîche, all presented on a tiered Baccarat crystal stand.
Pay attention to the warm blinis on the second tier. See that light, reddish tint? The blini batter is infused with Ruschka, a Mariage Frères tea blend with citrus and Silver Needle, a rare white tea made from only the top buds of the tea plant. The infusion is one of the many small touches that differentiate the service and make it memorable. Others include appropriately knowledgeable but not obtrusive servers and sharp attention to details—like not overfilling each tea cup and offering perfectly polished silverware and glassware. It's the little things that make a big difference in an affair so delicate as afternoon tea.
Aside from caviar and accoutrements, the Tsar Nicholas II comes with a few additional courses, including an amuse-bouche of pickled sable with fingerling potatoes, sweets of Stoli Kvass sorbet infused with rooibos, and a pair of bonbons filled with Earl Grey caramel. Notably absent are the traditional trappings of savories, scones, and sweets. In their place, however, are exemplary lavender shortbreads, which were flaky and delicate—so good in fact, that Baccarat should consider offering them as a standalone item on the menu.
As for the tea itself? The suggested pairing for this service is Lung Ching Impérial, also by the acclaimed Parisian tea-maker Mariage Frères. It's made up of prized green Dragon Well and Long Jing leaves from China's Zhejiang province, signaling a sophisticated (and welcome) departure from the tried-and-true Japanese teas so popular in New York and beyond. These tea leaves are pan-roasted and flat-pressed, rather than balled-up or twisted into little tea pellets as most  green teas are.
Take it from a true tea connoisseur: Having a Chinese green tea spotlighted in such a luxurious setting is very special. Kudos to Gabrielle Jammal, the in-house tea sommelier, for an unexpected pairing that works beautifully. It does not compete but instead highlights the caviar, serving as a subtle, embracing backdrop.
Save for the Baccarat Blend, any of the dozen teas offered in the Grand Salon (including the Lung Ching Impérial) can be easily purchased online. So: Is Tsar Nicholas II worth it? If you approach the service not as a traditional afternoon tea service but as an over-the-top, multi-course caviar service, then the answer is yes. The Grand Salon is expansive and luxe, transporting and celebratory in its mood. You come for the food and service as much as the dazzling ambiance (which certainly factors into the price). But don't expect an afternoon tea that will satisfy like a proper meal. Tsar Nicholas II is purely about pleasure.
News by Bloomberg, edited by Hospitality Ireland